Business & Leadership Skills Training

Leadership is a way of thinking, a way of acting and, most importantly, a way of communicating.
Are you a leader or manager of groups who is looking to develop and grow your team's effectiveness? Are you looking for that 'extra edge' to get to the next level?
Cumara Performance programmes are designed to help both new and experienced leaders refine their 'thinking and doing' gaps by visiting some tried and tested leadership theories and using contemporary approaches to challenge leaders' habits.
Cumara Performance can enhance leadership roles by assessing current styles, habits and challenges and then delivering leadership action plans incorporating tools, frameworks and ideas that are being used effectively in successful organisations.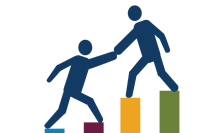 Courses available include:
Ronan listened to what we were asking for and delivered. Great energy, great fun, great learning.
Cumara Performance can help you to continue on your path to Leadership Success
We deliver tools, frameworks, approaches and actionable plans that create growth and success for you and your teams.
We systematically conduct 'Gap Analysis' with personnel, looking at knowledge, skills, attitude and experience of management or leadership group.
Following initial assessment, a 30, 60 or 90 day action plan is developed.
Experience has shown us that ongoing formal and informal support significantly enhances the outcome of initial intervention. This may take the form of group and individual mentoring, coaching, training and on-line support in the first 6 months and occasionally thereafter as required. Our Leadership workshops are designed to be interactive and maximise experiential learning.
Do you have what it takes to Lead?
If you have any queries or would like to discuss tailoring a course to suit your individual business needs why not contact us now on 086 832 9940 or send us an email outlining your requirements and a member of our team will revert to you.